Born Glasgow Scotland and now living on the West coast of Scotland.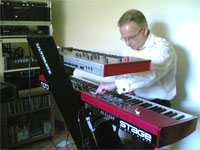 Stephen studied piano at an early age attending Royal Academy of Music and played with local bands before getting a live tour with chart outfit Gonzales (You haven't stopped dancing yet)that really set him off on live playing.
"I was 18, with my Rhodes piano (bought from delivering newspapers) and a mono synth playing each night with a crowd of disco heads who constantly improvised the set. Some nights the song could be five minutes, others it was twelve! Though I didn't realise it at the time, it taught me so much about playing and listening .....fast!
Stephen's playing later became more studio based as session work in London and Buckinghamshire became more lucrative.
"My style had become so much more diverse using synths and programming and good old Rhodes playing was not seen to be commercial enough, at least to sustain working in studios".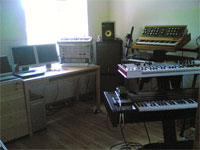 That led to working and recording with producers including Hugh Murphy (Gerry Rafferty) and Ian Morrow (Wet Wet Wet, Seal) and contiued to play live as often as was available.
More recently, he studied and is qualified at SAE (www.SAE.edu) to really bring studio skills up to speed on the technology side. "It was a big leap of faith for me as I hadn't done any studying since leaving school in the late 70's. The technology was totally new to me but the combination of playing with the studio side was the obvious way for my playing to progress"
Currently busy supplying keyboards and sound design for Citrus Audio (www.citrusaudio.com) who essentially are a commercial Music Production Company who supply audio for licencing to companies in the media who require bespoke material.
Style described as "solid groove playing with jazzy inversions and quick chops"..........must be that Rhodes again!
Thanks. I hope you enjoy the audio.
Stephen